RESIDENTIAL
HIGH PRESSURE WASHING AND CLEANING SERVICES

OUR RESIDENTIAL AND COMMERCIAL
HIGH PRESSURE WASHING AND CLEANING SERVICES
HOUSE SIDING WASHING
The cleaning of the facades is really intended to maintain your building. It rids the facades of damage caused by air and biological pollution. The appearance of dirt and marks is often the result of a lack of maintenance on your building in the past years. We use biodegradable products that are not harmful to the environment (animals, children, plants, flowers) on buildings.
WASHING OF BRICKS AND STONES
We use special products to remove efflorescence (a phenomenon on new brick). Aquableu can also give a second life to your property's brick, stone and paver stones that are worn and blackened by the years. You'd be surprised what a brick restoration can do, we have over 25 years of experience in the field. Sometimes we make magic! Contact us for your brick and stone restoration. We also have the service of applying sealant to protect your brick and stone.
UNISTONE WASHING
The application of a sealant is essential to the survival of a paver for years. The sealant prevents mold and mildew from growing in the joints of the unistone. It is also excellent for reducing the damage that cars can cause: tire marks, oil damage and snowplow marks. Our unistone service is complete. We replace the polymeric sand in the joints if it is worn out and we apply the sealant on all your unistone.
POOL CONTOUR WASHING
We have high-pressure floor washers specially designed to give your pool surround a shine. In addition, we have the right products to apply on your surfaces such as anti-slip products against the risk of slipping and water repellent products to protect the surfaces for many years.
GUTTER CLEANING
Gutter cleaning is important, but often neglected. Too many leaves and residues in the gutters are the cause of water infiltration in homes. A regular gutter cleaning service will ensure that your gutters are working properly and will allow water to drain away. It is recommended to clean your eavestroughs twice a year. We also offer gutter guard installation services.
OIL SPILL CLEANUP
When oil damage occurs, you need to act fast. A combination of hot water pressure washer and high quality degreaser will get rid of even the most stubborn oil spills. We offer a fast emergency service to act quickly. Contact us for more information!
SERVICE REQUEST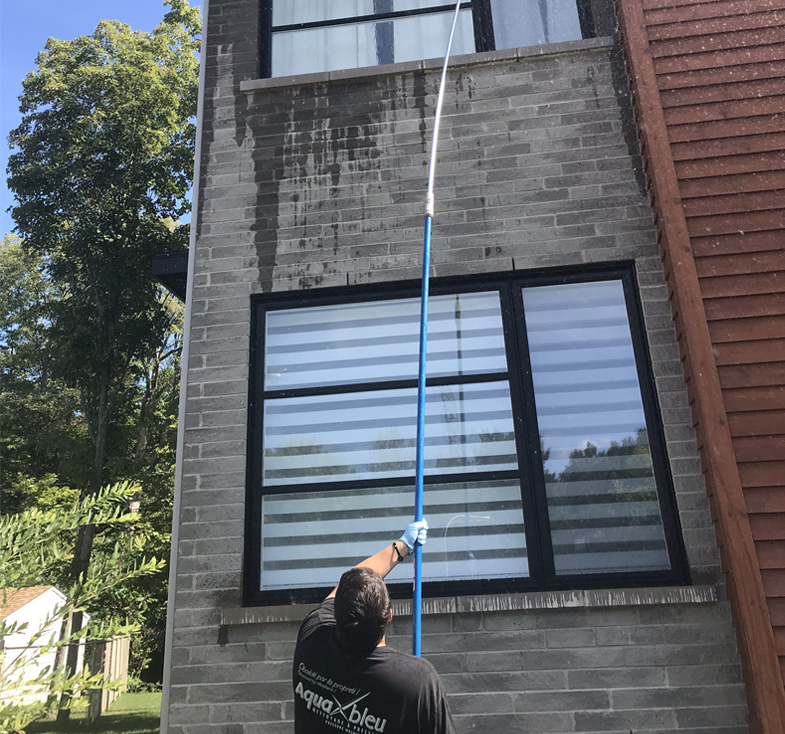 HIGH PRESSURE WASHING : BRICK HOUSE
HIGH PRESSURE WASHING : COBBLESTONE
HIGH PRESSURE WASHING : House siding
HIGH PRESSURE WASHING : House siding
HIGH PRESSURE WASHING : Pool side
HIGH PRESSURE WASHING : Shed