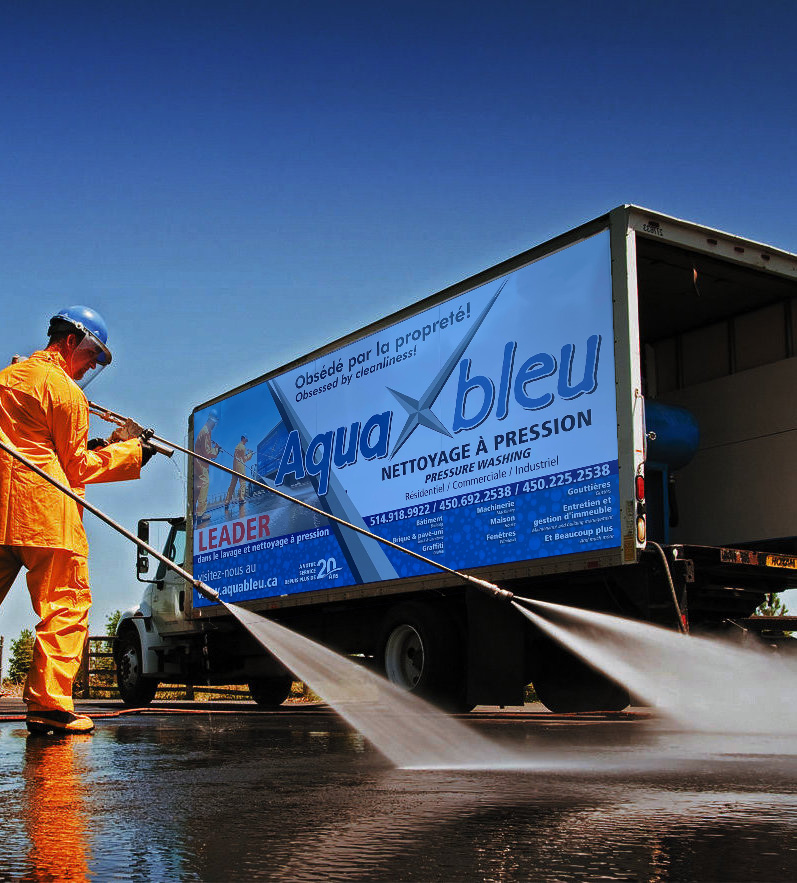 Leader
IN RESIDENTIAL, COMMERCIAL AND INDUSTRIAL
HIGH PRESSURE WASHING AND CLEANING
SERVICE REQUEST
PRESSURE CLEANING
AQUABLEU CLEANING AND HIGH PRESSURE WASHING
The company was created in 2000 by Marc Roy to fill a need in the Montérégie region. A businessman for a very long time, Mr. Roy has taken on all the challenges that were presented to him. Aquableu started in the Chateauguay region in the residential sector and then expanded throughout Quebec.
We have acquired a lot of experience in several fields of pressure washing and cleaning. This has allowed us to be one of the largest pressure washing and cleaning companies in Quebec.
We take great care of each of our customers. We serve multinationals, institutions and the residential sector. Our clients include companies such as Costco, Couche-Tard, Grand Prix de Montréal, Canadian Tire and many others. The company has mobile factory trucks equipped with state-of-the-art equipment.
We are proud of what we have accomplished and we have great ambitions for the years to come. Thank you for trusting us.
SERVICE REQUEST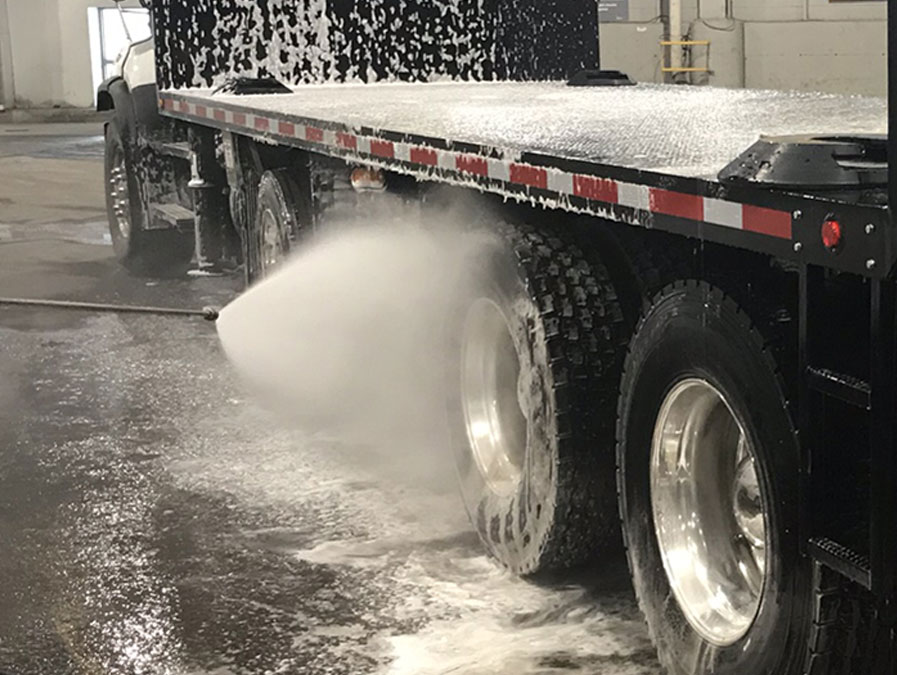 Official supplier Grand Prix Canada
Aquableu has been the official supplier of the Canadian Grand Prix since 2019. We are proud to be part of the biggest sporting event in Canada. We have the responsibility to put the Gilles Villeneuve circuit in an impeccable state. The challenge is high but Aquableu is always ready to take on the biggest challenges.
CANADIAN GRAND PRIX CLEANUP: FERRARI
CANADIAN GRAND PRIX CLEANUP: FACILITIES
CLEANING AT THE CANADIAN GRAND PRIX: SIDEWALK
CLEANING AT THE CANADIAN GRAND PRIX: TRACK SIDE
CLEANING AT THE GRAND PRIX OF CANADA: WALLS
CANADIAN GRAND PRIX PRESSURE WASH
RESIDENTIAL, COMMERCIAL AND INDUSTRIAL PRESSURE WASHING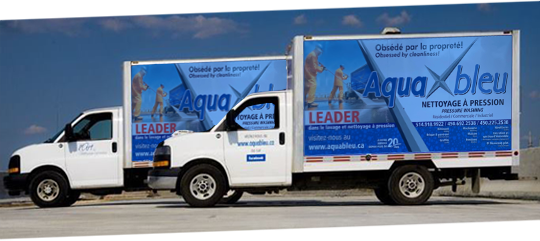 The field of washing and pressure cleaning is sometimes complex. It is important to be well advised because of the multitude of possibilities and coatings to clean. Aquableu has more than 25 years of experience as a generalist in cleaning and pressure washing, that is to say, we are highly qualified in all areas of cleaning and pressure washing. In 25 years, there is no job we haven't done. Before choosing your pressure washing contractor, make sure you know about their experience, don't hesitate to ask us questions. We are one of the only companies in Quebec with over 25 years of experience. In addition, we have liability insurance for all types of work.
MORE INFORMATION
PRESSURE CLEANING SERVICE FOR HEAVY MACHINERY AND VEHICLE FLEETS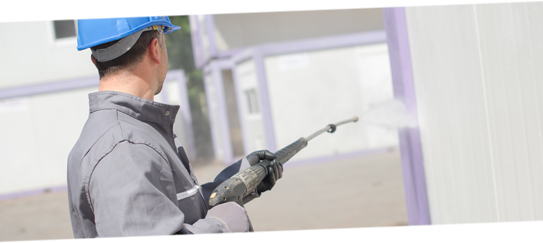 The change in weather in Quebec brings its own set of complexities. All the corrosive products we use damage vehicles. That's why we offer cleaning and pressure washing services for your fleet of vehicles and machinery. The maintenance of your vehicles and machinery allows you to increase their longevity by removing excess salt, grease, oil, rocks, insects, etc. At Aquableu we believe that the image you convey on the road is paramount.
MORE INFORMATION
BUILDING AND GRAFFITI REMOVAL MANAGEMENT PROGRAM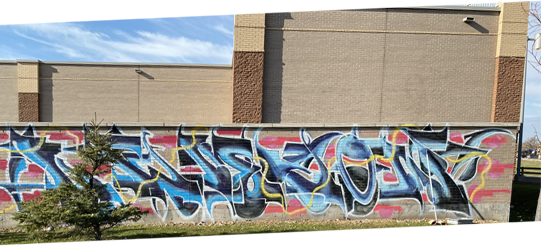 Society today is moving at a breakneck pace, and building managers are constantly faced with the challenges of keeping their buildings clean and welcoming to their clientele. Aquableu has been working with building managers for over 25 years to help and advise them on how to maintain their image. We have several packages available such as graffiti removal. The scourge of graffiti is difficult to counter, we have a lot of experience in this field and we can give you valuable advice. We also have a wide range of services such as parking lot and sidewalk cleaning, facade maintenance and much more. Do business with us and take the stress out of maintaining your buildings. Don't forget that the first impression your customers have of your buildings will always be the image they keep. Contact us for all your questions.
MORE INFORMATION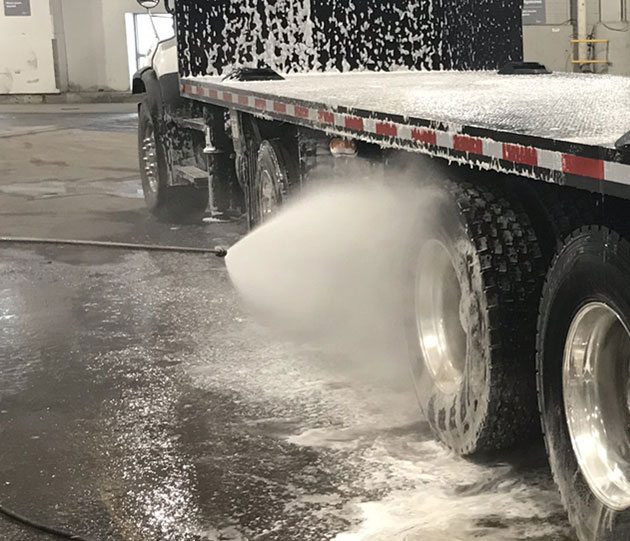 RESIDENTIAL AND COMMERCIAL
PRESSURE WASHING SERVICE
ON THE SOUTH SHORE AND GREATER MONTREAL
Aquableu is a company that excels in pressure cleaning.
Whether it is for pressure cleaning of buildings: houses, businesses, industry, bricks, stones, paving stones, cleaning of heavy machinery, boats, fleet of vehicles and cleaning of graffiti whatever the coating. Or even for crime scene cleaning, damaged glass, film set cleaning and restaurant kitchen hood cleaning. Aquableu is without a doubt the company to contact for cleaning.
We offer a range of services adapted to all types of specific work. Aquableu uses biodegradable and environmentally friendly products that are certified by the federal and provincial governments. We are very affordable in our prices.
For pressure cleaning of graffiti, houses, businesses, bricks, stones, paving stones, machinery, boats and fleet of vehicles, Aquableu is without a doubt the most trusted company to contact for pressure cleaning.
SERVICE REQUEST